Welcome to my website. Here you will find information on my concerts, the instruments that I play and my CDs. I hope you will enjoy reading this. Do not hesitate to contact me if you would like to have more information. See contact.

Biography
Sabine d'Hont studied recorder at the Utrecht Conservatorium where she was taught by Baldrick Deerenberg and Leo Meilink. After having graduated she continued her studies with Kees Boeke in Italy for a year. She gave concerts in the Netherlands, Germany, France, Italy and Canada and contributed to a CD-recording of the C.Ph.E. Bach Orchester conducted by Harmut Haenchen for Sony Classical. Besides she took cello lessons and played continuo in several 18th-century music ensembles. In 2003 she released her first solo-CD with baroque music, which she recorded together with Pieter-Jan Belder and which was acclaimed by the press (Contrapunctus Musicus, VC 2510). In 2005 followed by the CD 'Doux Rossignols' with Ensemble la Dauphine, concentrating on French Baroque music (Titanic T266). This CD was awarded Four Goldberg Stars. Sabine regularly gives concerts, both as a soloist and in chamber-music ensembles. In her solo programme Stemmingen (Moods) she combines six ages of music and nine different recorders with a wide range of poetry by about thirty poets. With singer-songwriter, composer and guitar player Remco Jacobs duo Upon the Wind.

From the press
"This recorder player is able to produce the wealth of sound and the various possibilities of recorder-playing. She does so via a wonderful technique and great musical empathy…"
Willem van Koppenhagen in regional newspaper 'de Gelderlander', 3-10-2000 "The recorder player Sabine d'Hont is a real virtuoso on her instrument."
"Excellent ensemble-playing by Duo Philidor. The combination of technical command and spontaneous musicality was all around. The musicians comply imperceptibly with each other … In the adagio e dolce from the trio sonata in G minor BWV 527 by Bach the recorder player drew a very subtle sound from her instrument …." Wil Kox in regional newspaper 'de Gelderlander', 22-2-1999 en 20-3-2000
"Playing without a bass is being stripped of everything. Sabine d'Hont and Pieter-Jan Belder had the courage to do so and expose themselves. The pieces by Telemann and Hotteterre are delicate and pleasant to listen to and are performed here excellently and with love. A feather in their cap..."
Eline Holl in 'Klassieke Zaken' (music magazine, October 2003)

Doux Rossignols
18th century French baroque music

Ensemble la Dauphine
Sabine d'Hont - recorder
Johannes Boer - viola da gamba
Pieter-Jan Belder -harpsichord, organ and recorder
Erik Beijer, viola da gamba

Music by Couperin, Leclair and Philidor. For the programme and audio see page CD's on this website.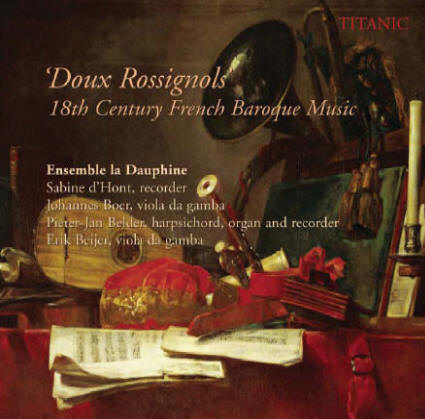 Description of the recording
This CD offers a selection from French baroque repertory from the first half of the 18th century. Well-known compositions of Couperin and Leclair alternate with unknown works by Philidor and Dollé. What surprises is the variety in strength: solo sonatas for both voice-flute and gamba, trio sonatas, a harpsichord solo and a duet for two voice-flutes.
This CD is the materialisation of the wish of recorder player Sabine d'Hont to record music for the then popular voice-flute, a tenor recorder in d', owing its reputation to the fact that it could imitate the human voice well.
It is remarkable that the harpsichordist of this ensemble, Pieter-Jan Belder, is a recorder-player as well. He is a much sought-after harpsichordist and forte pianist and has recorded a large number of CDs, including the complete works of Corelli and the Tafelmusik by Telemann with his own Ensemble Amphion. Besides he is recording the complete harpsichord sonatas of Domenico Scarlatti. As a soloist he can be heard in the Dixhuitième Ordre for harpsichord solo by François Couperin. The gamba player Johannes Boer performs an unknown solo sonata by Jean-Marie Leclair. This baroque ensemble plays ardently and stylishly on very fine instruments. The recording does justice to it all.
Titanic Records Ti-266

Reviews
"The four musicians, playing on copies of historical instruments, know how to create a different mood with every work. D'Honts playing is rethorical, virtuoso and with a beautiful tone. Viol player Johannes Boers sounds exemplary on the whole line, where his solopart in Leclairs Sonata in A minor forms the top."
Frans Jansen in Klassieke Zaken, november 2005
"Leclair features again on Doux Rossignols: 18th century French Baroque music (Titanic Ti-266, rec 2005, 70'). This delightful disc of instrumental music, recorded by Ensemble La Dauphine, also variety and virtuosity that includes works by Boismortier, Anne Danican and Pierre Danican Philidor, Blavet, Dollé and François Couperin. Much of the disc involves just three of the four members of the ensemble with a variety of instruments in different permutations. Such versatility allows the performers to record an interesting programme which includes not only three trio sonatas, a solo sonata (for viola da gamba) and a suite, but also two unaccompanied duos (including Blavet's Pourquoi doux Rossignols, which gives the disc its title) and the 18th ordre from Couperin's book 3 for solo harpsichord, performed stylishly by Pieter-Jan Belder. An instrument that features on several tracks is the voice flute, a recorder in D with a wonderfully rich tone. Another slightly unusual instrument is the descant viol, the pardessus; this appears in the final piece, a charming trio sonata by Charles Dollé, whose music deserves to be better known. From beginning to end, this disc contains such assured and musical playing that the listener can simply sit back, relax and enjoy."
Shirley Thompson, Early Music, May 2006, Vol. 34
"The flute, with its mellow yet plaintive sound, was extremely popular in late 17th-century France, and rapidly became associated with the aesthetic of the pastorale. The Dutch ensemble La Dauphine illustrates this craze in their new album. The title is taken from a charming flute duo based on a song by Blavet entitled 'Doux Rossignols' (Sweet Nightingales). Sabine d'Hont, a veritable virtuoso on the recorder, enchants the listener with her performances of chamber pieces written in the first half of the 18th century by French composers. The listener will enjoy comparing similar pieces (Sonatas for flutes, gambas and basso continuo) by composers as different as Bodin de Boismortier, Leclair and the too infrequently recorded Dollé. The works showcase the extraordinary abilities of Sabine d'Hont, particularly in the Leclair Sonate; they also give Pieter-Jan Belder, an excellent all-round musician, the chance to shine. Belder is an admirable harpsichordist in the Couperin solo pieces and the basso continuo parts; he also stands out in the Suite à deux flutes by Pierre Danican Philidor, in which he performs on the flute. The album also affords the listener a chance to compare the music of the Philidor cousins, with Anne Danican Philidor's Suite pour flûte et basse continue coming across as especially pleasant. Its popular tunes provide a bucolic end to the programme."
Patrick Florentin, Goldberg Magazine, June 2006, issue 40. Four Goldberg Stars.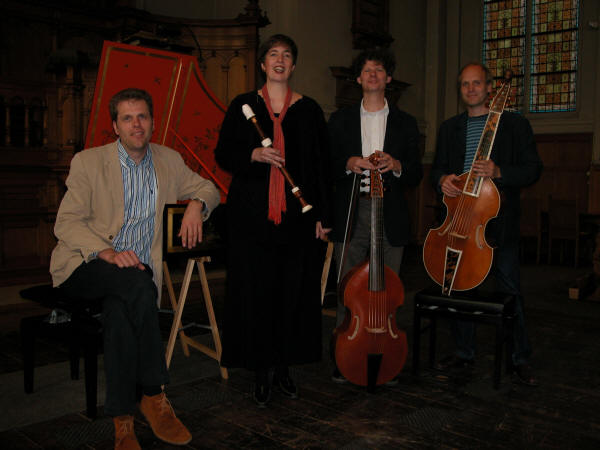 Instruments
Most of the instruments that I play are made by Fumitaka Saito (Amsterdam/Tokyo): a Bressan alto recorder, a Bressan voice-flute, a Terton descant recorder (all a=415 Hz) and a Ganassi alto recorder in g (a = 466 Hz). Fumitaka is an oustanding expert and his flutes have an extraordinary fine, deep and far-carrying sound. On the photo from top to bottom: the first 4 recorders are by Fumitaka Saito.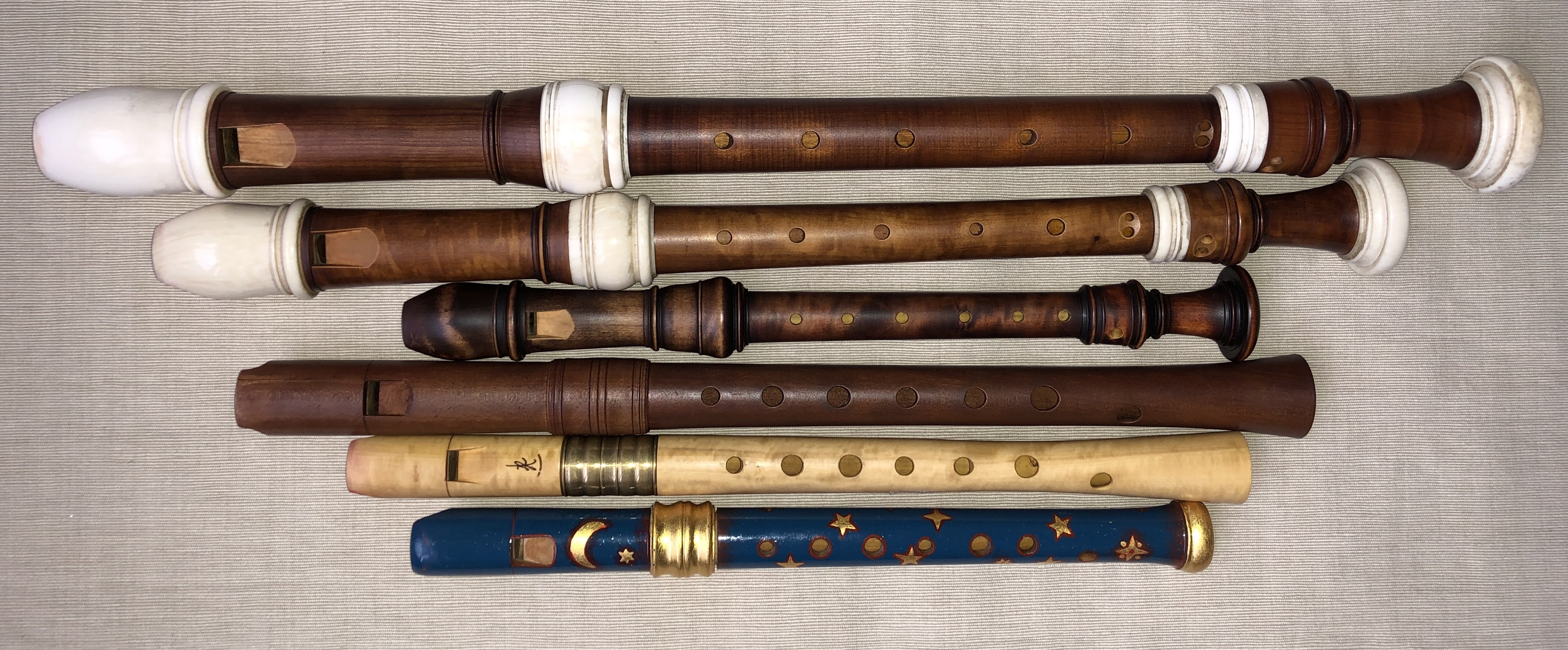 I also play recorders made by Adriana Breukink (Enschede) that I can warmly recommend. Adriana has originated spectacular developments in recorder making, among others the designing of the "dream flutes" (a crossing between a renaissance and a baroque recorder) and more recent the spectacular Eagle recorder. I play a dream treble recorder in f', a baroque treble recorder in f' and he Eagle alto recorder, all in a = 440 Hz and the dream soprano (bottom of the photo above, painted by Co Jacobs). These flutes have a big, round, clear and forceful tone and a deep sonorous lowness.
Luca de Paolis I can also recommend. I play a Ganassi soprano made by him (see photo in boxwood).

Further I recommend every teacher and player to visit the website of the German firm Mollenhauer. In the last years they have been very innovative and offer a rich and varied set of instruments. A few examples of this are: Adriana Breukink's dream flutes (soprano, alto and tenor) in different versions (dream soprano's are now also available with synthetic head and wooden underside, or completely synthetic; the modern alto recorder, having a range of 3 octaves (e'-es'''!) and the baroque recorders after Fred Morgan.