CD 'Doux Rossignols' met 18e eeuwse Franse barokmuziek

Ensemble la Dauphine
Sabine d'Hont - blokfluit
Johannes Boer - viola da gamba
Pieter-Jan Belder - clavecimbel, orgel & blokfluit
Erik Beijer - viola da gamba

Muziek van o.a. Leclair, Philidor en Couperin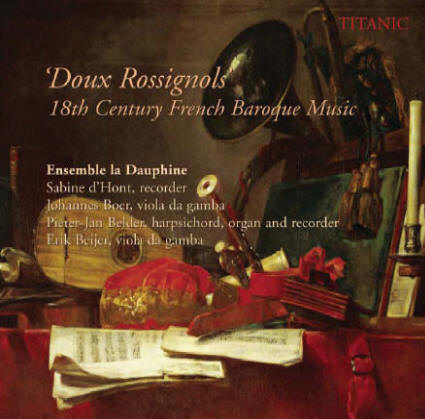 Deze cd biedt een keuze uit Frans barokrepertoire uit de eerste helft van de 18e eeuw. Bekende composities van Couperin en Leclair worden afgewisseld met onbekende werken van Philidor en Dollé. Verrassend is de variëteit in bezetting: solosonates voor zowel voice-flute als gamba, triosonates, een klavecimbelsolo en een duet voor twee voice- flutes. De cd is ontstaan uit de wens van de blokfluitiste Sabine d'Hont om muziek op te nemen voor de destijds populaire voice-flute, een tenorblokfluit in d', die zijn naam dankt aan het feit dat het de menselijke stem goed kon imiteren. Opmerkelijk is het feit dat de klavecinist van dit ensemble, Pieter-Jan Belder, ook blokfluitist is. Hij is een veelgevraagd klavecinist, fortepianist en dirigent heeft een groot aantal cd's gemaakt, waaronder de complete werken van Corelli en de Tafelmusik van Telemann met zijn eigen Ensemble Amphion en de complete klavecimbelsonates van Domenico Scarlatti. Als solist is hij te horen in de Dixhuitième Ordre voor clavecimbelsolo van François Couperin. De gambist Johannes Boer speelt een onbekende solosonate van Jean-Marie Leclair. Titanic Records Ti-266: www.titanicrecords.com
RECENSIES
'De vier musici, spelend op kopieën van historisch instrumentarium, weten met ieder werk een aparte stemming te creëren. D'Honts spel is retorisch, virtuoos en mooi van toon. En gambaspeler Johannes Boer klinkt over de gehele linie voorbeeldig, waarbij zijn solopartij in Leclairs Sonate in a kl.t. het hoogtepunt vormt.' Frans Jansen in Klassieke Zaken, november 2005

'Leclair features again on Doux Rossignols: 18th century French Baroque music (Titanic Ti-266, rec 2005, 70'). This delightful disc of instrumental music, recorded by Ensemble La Dauphine, also variety and virtuosity that includes works by Boismortier, Anne Danican and Pierre Danican Philidor, Blavet, Dollé and François Couperin. Much of the disc involves just three of the four members of the ensemble with a variety of instruments in different permutations. Such versatility allows the performers to record an interesting programme which includes not only three trio sonatas, a solo sonata (for viola da gamba) and a suite, but also two unaccompanied duos (including Blavet's Pourquoi doux Rossignols, which gives the disc its title) and the 18th ordre from Couperin's book 3 for solo harpsichord, performed stylishly by Pieter-Jan Belder. An instrument that features on several tracks is the voice flute, a recorder in D with a wonderfully rich tone. Another slightly unusual instrument is the descant viol, the pardessus; this appears in the final piece, a charming trio sonata by Charles Dollé, whose music deserves to be better known. From beginning to end, this disc contains such assured and musical playing that the listener can simply sit back, relax and enjoy.' Shirley Thompson, Early Music, May 2006, Vol. 34

'The flute, with its mellow yet plaintive sound, was extremely popular in late 17th-century France, and rapidly became associated with the aesthetic of the pastorale. The Dutch ensemble La Dauphine illustrates this craze in their new album. The title is taken from a charming flute duo based on a song by Blavet entitled 'Doux Rossignols' (Sweet Nightingales). Sabine d'Hont, a veritable virtuoso on the recorder, enchants the listener with her performances of chamber pieces written in the first half of the 18th century by French composers. The listener will enjoy comparing similar pieces (Sonatas for flutes, gambas and basso continuo) by composers as different as Bodin de Boismortier, Leclair and the too infrequently recorded Dollé. The works showcase the extraordinary abilities of Sabine d'Hont, particularly in the Leclair Sonate; they also give Pieter-Jan Belder, an excellent all-round musician, the chance to shine. Belder is an admirable harpsichordist in the Couperin solo pieces and the basso continuo parts; he also stands out in the Suite à deux flutes by Pierre Danican Philidor, in which he performs on the flute. The album also affords the listener a chance to compare the music of the Philidor cousins, with Anne Danican Philidor's Suite pour flûte et basse continue coming across as especially pleasant. Its popular tunes provide a bucolic end to the programme.'
Patrick Florentin, Goldberg Magazine, June 2006, issue 40. Four Goldberg Stars.
PROGRAMMA
Joseph Bodin de Boismortier (1682-1765)
- Triosonata in E minor, opus 37, nr.2 for voice-flute, viola da gamba and basso continuo

Allegro
Adagio
Allegro
Anne Danican Philidor (1681-1728)
- Suite II in D major for voice-flute/soprano recorder and basso continuo

Les songes
Le Moulin de Tavelle


La Gratieuse
Dame Ragonde
Rondeau ensuite
François Couperin (1668-1733)
- Dix-huitième Ordre in F major for harpsichord soloJean Marie Leclair(1698- 1764)>
Jean Marie Leclair (1697-1764)
♪ Sonata VIII à trois in D major for voice-flute, viola da gamba and basso continuo
Adagio
Allegro
Sarabanda (largo)
Allegro assai
Michel Blavet (1700-1768)
- Pourquoi doux Rossignols in B flat major for two alto recorders
Jean Marie Leclair
- Sonate in A minor for viola da gamba and basso continuo
Pierre Danican Philidor (1681-1731)
- Onzième Suite in E minor for two voice-flutes
Fugue (pas trop vite)
Charles Dollé
- Triosonata in C minor, opus 1, nr.2 (1737) for alto recorder, pardessus de viole and organ
Andante-Allegro ma non troppo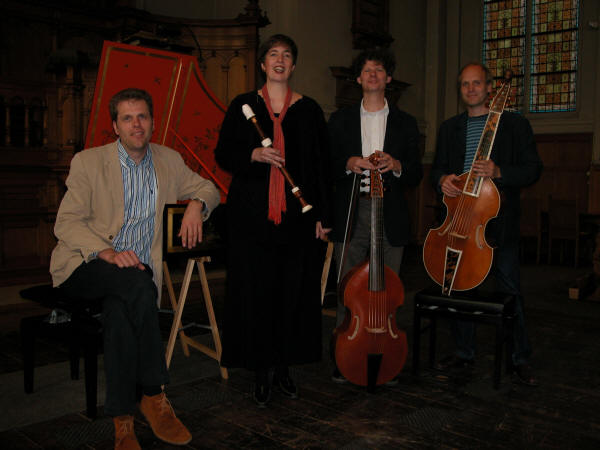 Titanic Ti-266. Verkrijgbaar door overmaking van € 15,00 (incl. verzendkosten) naar IBAN:NL64INGB0009601189 t.n.v. S. d'Hont, Arnhem o.v.v. CD Doux Rossignols en uw adres.
CD met BAROKMUZIEK van o.a. Telemann, Händel en Bach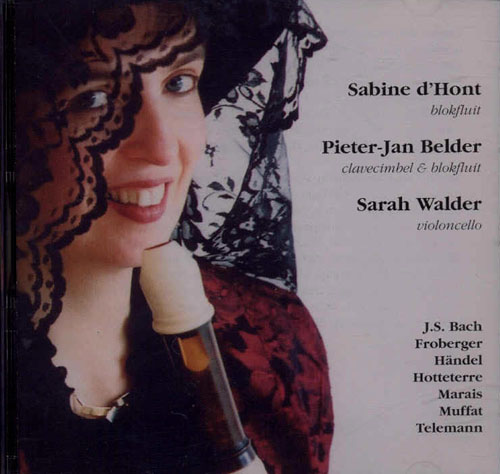 Sabine d'Hont - recorder
Pieter-Jan Belder - harpsichord, recorder
Sarah Walder - cello
PROGRAMMA
Georg Philip Telemann (1681-1767)
- Partita 5 in E minor
Georg Philip Telemann
- Sonate opus 2 nr.2 in B flat. (1727)
George Muffat (1645-1704)
- Passacaglia in G minor (uit Apparatus musico-organisticus) (1690)
Johann Sebastian Bach (1685-1750)
- Triosonate in G minor (BWV 527 )
Marin Marais (1656-1728)
- Les Folies d'Espagne in G minor for alto recorder solo
Jacques Hotteterre (1674-1763)
- Première Suitte de Pièces opus 4 in D minor for two alto recorders
Johann Jacob Froberger (1616-1667)
- Toccata IV in F major (FbWV 110) (1656) for harpsichord solo
Georg Friedrich Händel (1685-1759)
- Sonate in B minor for voice-flute and b.c.


Contrapunctus Musicus, VC 2510 (2003). Deze CD is verkrijgbaar door overmaking van € 10,00 (incl. verzendkosten) naar IBAN:NL64INGB0009601189 t.n.v. S. d'Hont, Arnhem o.v.v. CD Barok en uw adres.